Vol.30, No.2: April-June 2014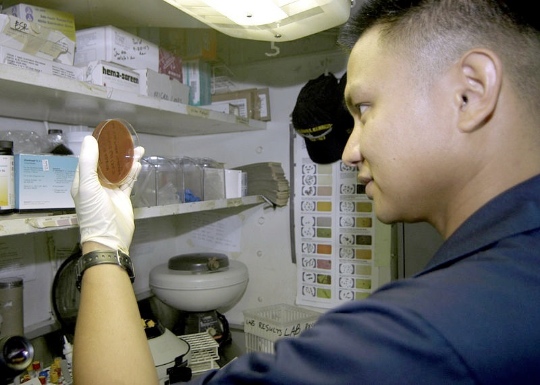 If you don't check out the unexpected stuff in the petri dish, you won't discover penicillin.
Freedom for Research
The Canadian Association of University Teachers has been defending the right of researchers to create knowledge, a right which is now under siege. In CAUT's James Turk on Corporatized Universities, the organization's executive director James Turk talks with Metta Spencer about freedom of research, the corporate campus, and why these issues are vital for democracy.
Also in this issue
The Catastrophic Success of Ukraine's Revolt
Less than three weeks after the EuroMaidan protesters won in the streets and in parliament, the Crimea was lost. Ken Simons tracks the bad decisions which took Ukraine from hope to despair.
A Partnership for Corporate Power?
Coming soon: the Trans-Pacific Partnership Agreement (TPPA), a free-trade agreement between the US and seven Pacific Rim nations, but with even fewer safeguards than NAFTA. Joanna Santa Barbara supplies the details.
Crossword solution. In the print editon of the April 2014 issue, we somehow managed to forget the solution to the previous (January 2014) issue's Peace Crossword. You can download a PDF version of it here: 201401.pdf [5kB] .
Talk back: Commenting on articles
You can submit comments on selected articles during the current issue's date-span (eg Apr-Jun 2014). We are using a slightly different article template for these articles; follow the links in the paragraphs above, or see this issue's table of contents page to pass your judgment on current articles. Comments are moderated, so will not display immediately on the page.
If you want to discuss an earlier article with us, or if you would like to submit a letter to the editor for publication, you can write the editor directly.
Follow us on Facebook and Twitter
Facebook page: www.facebook.com/pages/Peace-Magazine/224393994267274. Another way to keep connected and give us your feedback on our articles.
Twitter feed: twitter.com/peace_mag
Around the Office
The business office has a new phone number (on Toronto's just-introduced 437 area code). Call with your subscription, advertising, or other admin queries at 437-887-6978, or drop us a line at office@peacemagazine.org.
Credit card payments
We can now take most online payments through PayPal. See the right-hand sidebar on this page for special forms for new subscriptions and renewals; other payments, such as gift subscriptions, can also be paid online by request (we'll email you an electronic invoice). We no longer take credit card payments by mail or phone, due to excessively high charges. You are, of course, always welcome to pay with Canadian or US cheques through the mail.
Around the Website
All articles from the print edition, up to the end of 2013, are now online via the archive page. We have a new layout for the archive page — it is now arranged by issue (newest to oldest) rather than by year, and includes articles from the current year which are already online.
Cover Gallery
Our cover gallery can be found at www.peacemagazine.org/covers.htm. Below each cover thumbnail is a link to the article index for that issue.
Updated 08 April 2014