Vol.30, No.4: October-December 2014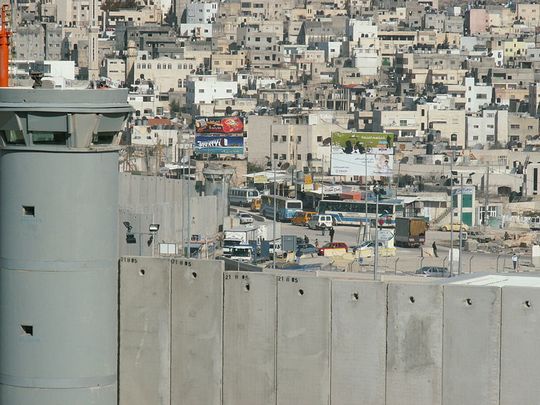 Refugee camp in the West Bank village of Kalandia, as seen from the Jerusalem side of the separation wall.
Israel and Palestine
Gaza War Model 2014: Letter to a Canadian from His Israeli Friend COMMENT
Meir Amor gives a different context to the seemingly intractible Israel/Palestine conflict: the often contradictory position of Jewish Israelis of Middle Eastern and North African origin —the Mizrachim —who were themselves refugees after the events of 1948.
Israel: A Jewish Nation-State? COMMENT
It isn't such an obvious question, as abraham Weizfeld explains. In 1948,when US President Harry Truman recognized Israel he crossed out the phrase "Jewish state" in the document which had been prepared for him, substituting the more neutral (and accurate) "State of Israel."
Also in this issue
Ukraine: Civil War/Proxy War COMMENT
Another failed revolution—which started with optimism in Kiev's Maidan nearly a year ago—led to violence, the loss of Crimea, and civil war. Metta Spencer comments on what has been lost, not just for Ukraine, but for all those who had hoped the Cold War was long over.
Talk back: Commenting on articles
You can submit comments on selected articles during the current issue's date-span (eg Oct-Dec 2014). We are using a slightly different article template for these articles; follow the links in the paragraphs above, or see this issue's table of contents page to pass your judgment on current articles. Comments are moderated, so will not display immediately on the page.
If you want to discuss an earlier article with us, or if you would like to submit a letter to the editor for publication, you can write the editor directly.
Follow us on Facebook and Twitter
Facebook page: www.facebook.com/pages/Peace-Magazine/224393994267274. Another way to keep connected and give us your feedback on our articles.
Twitter feed: twitter.com/peace_mag
Around the Office
The business office has a new phone number (on Toronto's just-introduced 437 area code). Call with your subscription, advertising, or other admin queries at 437-887-6978, or drop us a line at office@peacemagazine.org.
Credit card payments
We can now take most online payments through PayPal. See the right-hand sidebar on this page for special forms for new subscriptions and renewals; other payments, such as gift subscriptions, can also be paid online by request (we'll email you an electronic invoice). We no longer take credit card payments by mail or phone, due to excessively high charges, but PayPal accepts all major credit cards on our behalf (choose the "Don't have a PayPal account?" option when checking out).
You are, of course, always welcome to pay with Canadian or US cheques through the mail.
Cover Gallery
Our cover gallery can be found at www.peacemagazine.org/covers.htm. Below each cover thumbnail is a link to the article index for that issue.
Updated 16 October 2014