Welcome to the new
Peace Magazine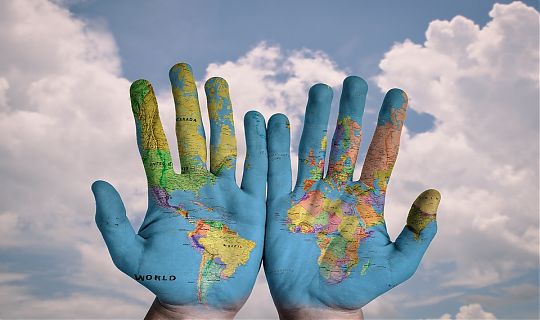 On page 4 of our mammoth 52-page issue, editor-in-chief Metta Spencer takes a concise look at the eight mistakes which led to Russia's war on Ukraine.
Also in this issue
Anti-nuclear power activist Pinar Demircan reminds us that Russian reactors are dangerous everywhere — and Turkey bites the smart financing bait.
John Feffer is studying green economic plans around the world at the Institute for Policy Studies. Here he reports on conversations with environmentalists in Latin America and the new initiative — the "Ecosocial Pact of the South." It works at the grassroots to promote a green economy.
After a long career as Gorbachev's adviser, then as head of Green Cross International, Alexander Likhotal now teaches in a university for diplomacy in Geneva. In this conversation in mid-February, he analyzes Putin's intentions, which are not really about Ukraine. This world order will change; nations have not existed always and will not continue forever.
Until January 2021, John Bacher had been devoted to defeating a "NASCAR-like" car-racing track complex in Fort Erie, Ontario. It was to have been built by a specially created corporation, the Canadian Motor Speedway (CMS). The project collapsed after its backers in the Arabian Peninsula pulled out, but important lessons can be learned from our thirteen-year struggle.
PressReader, Peace Magazine, and moving on from print
In the past, our 32-page magazine was available in two forms: a quarterly print publication, and the text archive on our website, www.peacemagazine.org. The former costs $20 a year in Canada, whereas the latter is of course free—though we only put half of each issue online immediately after publication (in a text-only format), making the remaining articles available on the archive only at the end of each year. Foreign subscribers have been few, since it is costly and slow to mail print magazines overseas.
Now each entire issue will be available for subscription worldwide in a digital version that contains everything (including photos, letters, editorials, and colour) that had appeared in the print edition—at the same $20 annual subscription price. The digital version is formatted either for reading on regular computers, tablets, or mobile phones, and instant translation is available into 30 languages.
The digital version will be available in public libraries and by subscription through PressReader, the online news server (with over 7,000 magazines and newspapers). Here is how to subscribe, either for yourself or as gifts for your friends around the world.
On a browser, go to pressreader.com and type "Peace" into the Search publications space (please be careful not to use the Advanced Search option, which covers articles rather than magazine names).
Peace Magazine archives
Every year on New Year's Day, we mark the occasion by uploading all remaining articles from the issues published during the preceding calendar year. See the archive page here for more than 2700 individual articles from March 1985 to October 2021.
Video, audio, text, and more: tosavetheworld.ca
Peace Magazine's "Project Save the World" (tosavetheworld.ca) releases a new one-hour video 5 to 7 times a week. These are broadcast on YouTube, but you can also watch on the Project Save the World website; listen to podcasts if you'd rather; read transcripts in place of videos and podcasts; or discuss comments online.
You can also watch recent videos on Peace Magazine's home page (see below). The display's layout may vary depending on your screen size. At the top of the box below, click the small 'playlist' icon to browse through a full list of videos.


Click to subscribe!
The clickable link in the box above will assist you in starting or renewing a Peace Magazine online subscription ($19.99 for 1 year) at PressReader.
Follow us on Facebook and Twitter
Facebook page: www.facebook.com/PeaceMagazine — another way to keep connected and give us your feedback on our articles.
Twitter feed: twitter.com/peace_mag
Credit card payments
We can take most online payments through PayPal. You are, of course, always welcome to pay with Canadian or US cheques through the mail.
Cover Gallery
Our cover gallery can be found at www.peacemagazine.org/covers.htm. Below each cover thumbnail is a link to the article index for that issue.
Updated 01 May 2022