Vol.30, No.3: July-September 2014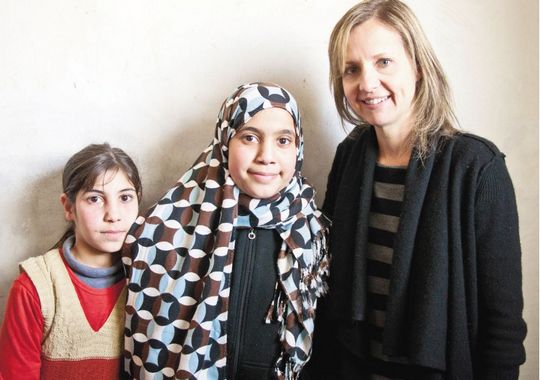 Samantha Nutt with Syrian refugees in Jordan, 2014.
Power to the Refugees!
War Child Works with Refugees
The Zaatari camp in Jordan is the second largest refugee camp in the world, populated by Syrian refugees who may be there for years, if not decades. Samantha Nutt was recently there; she talks with Metta Spencer about the ways in which War Child Canada—the charity she leads as executive director—has been bridging the gap between short-term emergency work and long-term peacebuilding.
Also in this issue
Canada Versus the Arms Trade Treaty?
At last count, 118 states have signed the June 2013 UN treaty which aims to regulate international sales of small arms and light artillery. The US has signed on, but Canada has not. What's Ottawa's thinking (and who are they afraid of?)
Review: Peacemakers: How People Around the World Are Building a World Free of War
Doug Roche is an iconic Canadian peacemaker; in his latest book, he sets out how a lasting culture of peace can be built. See the Mel Watkins review here.
In Memoriam
Dan Heap 1925-2014
Dan Heap (also known as Don), an honorary patron of Peace Magazine, has died April 25 in Toronto. Dan had a long career as a social activist, Anglican worker-priest, Toronto city councillor, and Member of Parliament.
Talk back: Commenting on articles
You can submit comments on selected articles during the current issue's date-span (eg Jul-Sep 2014). We are using a slightly different article template for these articles; follow the links in the paragraphs above, or see this issue's table of contents page to pass your judgment on current articles. Comments are moderated, so will not display immediately on the page.
If you want to discuss an earlier article with us, or if you would like to submit a letter to the editor for publication, you can write the editor directly.
Follow us on Facebook and Twitter
Facebook page: www.facebook.com/pages/Peace-Magazine/224393994267274. Another way to keep connected and give us your feedback on our articles.
Twitter feed: twitter.com/peace_mag
Around the Office
The business office has a new phone number (on Toronto's just-introduced 437 area code). Call with your subscription, advertising, or other admin queries at 437-887-6978, or drop us a line at office@peacemagazine.org.
Credit card payments
We can now take most online payments through PayPal. See the right-hand sidebar on this page for special forms for new subscriptions and renewals; other payments, such as gift subscriptions, can also be paid online by request (we'll email you an electronic invoice). We no longer take credit card payments by mail or phone, due to excessively high charges. You are, of course, always welcome to pay with Canadian or US cheques through the mail.
Around the Website
All articles from the print edition, up to the end of 2013, are now online via the archive page. We have a new layout for the archive page — it is now arranged by issue (newest to oldest) rather than by year, and includes articles from the current year which are already online.
Cover Gallery
Our cover gallery can be found at www.peacemagazine.org/covers.htm. Below each cover thumbnail is a link to the article index for that issue.
Updated 01 July 2014